SUCCESS WITH GD&T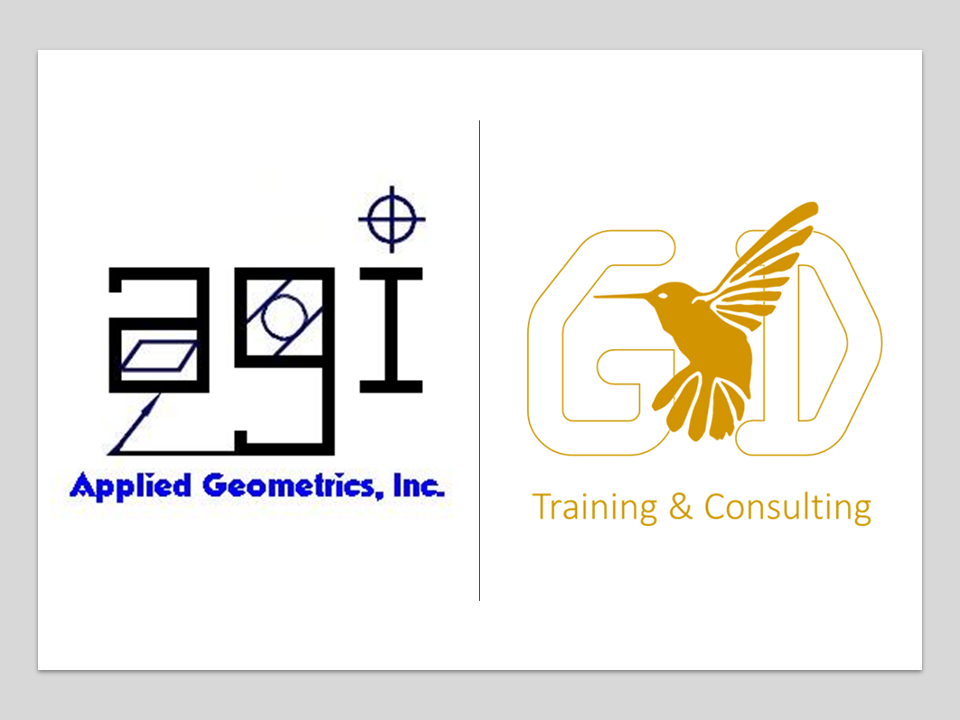 GDTC provides GD&T training in classrooms all over the world.  We help you transform the quality of your manufactured parts by using an advanced system of dimensioning and tolerancing (GD&T) to communicate engineering specifications clearly.
Training materials are obtained under a license agreement from Applied Geometrics Inc. a leading US based GD&T training company with more than 20 years of bringing GD&T theory to reality.
About Applied Geometrics, Inc. (AGI) - who are they?
Applied Geometrics, Inc. is committed to train manufacturing industry's personnel how to realize a higher return on investment by utilizing a standardized, concise and internationally accepted language of engineering expression known as GD&T.

For over 20 years, professionals at AGI have helped Global manufacturers dramatically reduce rejects and increase profits through successful implementation of Geometric Dimensioning and Tolerancing (GD&T). 
How good is the training curriculum?
The AGI course materials were prepared by experts in the field of GD&T who have over 30 years of in-depth knowledge and experience.

AGI, is considered as a leader in GD&T, and the curriculum has been honed to be very practical, and stood the test of time for over 20 years.

All training materials we use are obtained under a license agreement with AGI. Inc.
Why attend our GD&T classes?
The three distinguishing characteristics of our trainer are:
Our trainer possesses outstanding knowledge of the subject.

He is a certified trainer and able to impart this knowledge to the student in an interesting and exciting way.

He has the practical experience necessary to make the subject matter relevant to you.
Trainer Profile
Murali Pillai has been awarded GDTP-2009 Senior certificate by the American Society of Mechanical Engineers (ASME) in accordance with the qualifications of ASME Y14.5.2-2017. He brings with him 20 years of relevant industry experience and is proficient in the understanding and application of the geometric dimensioning and tolerancing principles expressed in the ASME Y14.5 standard.
He is currently the sole proprietor of Geometric Drafting Training & Consulting (GDTC) – a technical education and mentoring firm dedicated to teaching engineering product definition practices (ASME Y14.5-2009), using training materials obtained under license from Applied Geometrics, Inc. (AGI).
He spent twenty years of his engineering career at Emerson Automation Solutions (n.k.a) / Emerson Process Management (f.k.a.) in various management roles associated with new product development projects, mechanical design & development, manufacturing engineering and quality assurance.
He has also taught classes on geometric dimensioning and tolerancing in Singapore, Malaysia, China and India to Design, Manufacturing and Quality personnel.
Want to know more about GD&T?

Professional Qualification
• M.Sc. Management (Singapore Management University)
• B.E. Mechanical Engineering (Nanyang Technological University)
• Dip. Marine Engineering (Singapore Polytechnic)
• Dip. Teaching & Training (Cambridge University)
• Advanced Certificate in Training & Assessment (Institute of Adult Learning)
• Project Management Professional (Project Management Institute)
• Geometric Dimensioning & Tolerancing Professional-Senior (American Society of Mechanical Engineers, ASME Y14.5.2)

Career experience
• Managed global, multi-functional project teams for executing new product development and product innovations projects from prototype design to product launch.
• Established a functional design engineering centre in China for FISHER® product development and innovation.
• Executed manufacturing projects to design, develop and implement best-in-class manufacturing process in Asia Pacific using functional project teams from production, procurement, purchasing, quality assurance, and manufacturing engineering.